http://news.mt.co.kr/mtview.php?no=2017080216593178827&outlink=1&ref=http%3A%2F%2Fsearch.naver.com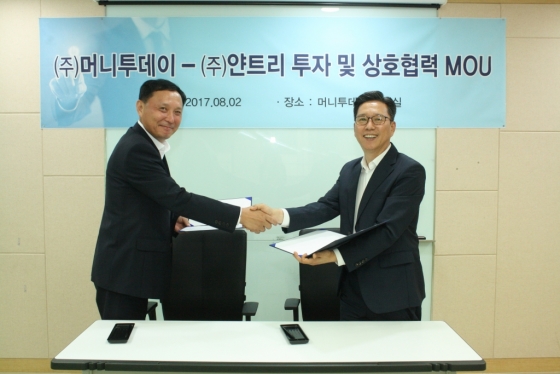 Executive director Yoon Byung-huI (left), Money Today and YarnTree Ahn Jin-Ho (CEO) are signing a commemorative photo. / Photo = Money Today Kim Doo-hwa Editor
Yantree (CEO, Ahn Jin-ho) announced on August 2nd that he signed a contract at the headquarters of MoneyToday
(CEO Park Jong-myeon) for mutual development between the two companies.
Yantree Co., Ltd operates KoreanMall that is an online overseas shopping mall.
It develops a shopping mall platform that can be used stably abroad, securing price competitiveness, raising
the satisfaction of overseas visitors and achieving the top rank of Alexa domestic ranking.
It is preparing for listing, and aims to be listed on the KOSDAQ list next year.
"By investing and working with Money Today, we will be able to provide a better shopping experience to overseas
consumers," and "With this agreement, we will do our best to introduce various Korean products to the global market" said
CEO of Yarntree, Ahn Jin-ho.
[Original Text]
http://news.mt.co.kr/mtview.php?no=2017080216593178827&outlink=1&ref=http%3A%2F%2Fsearch.naver.com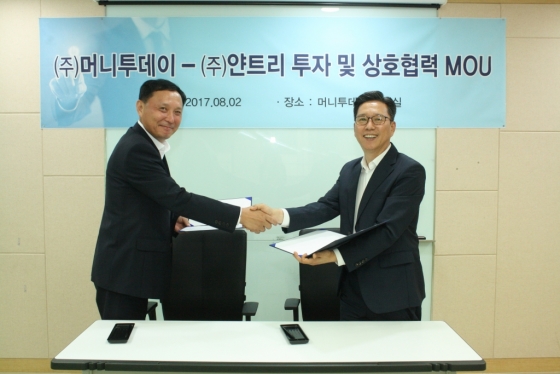 머니투데이 윤병훈 전무(좌)와 (주)얀트리 안진호 대표가 협약서에 서명 후 기념사진 촬영을 하고 있다./사진=머니투데이 김도화 에디터
㈜얀트리(대표 안진호)는 머니투데이(대표 박종면)와 양 사 간 상호발전을 위해 머니투데이 본사에서 업무협약을 체결했다고 2일 밝혔다.

㈜얀트리는 온라인 해외 역직구 쇼핑몰인 코리안몰(Koreanmall)을 운영하는 회사로 해외에서 안정적으로 이용할 수 있는 쇼핑몰플랫폼을 개발하여 가격경쟁력을 확보하고 해외 방문객의 만족도를 높여 Alexa 국내 랭킹 순위 1위를 달성한 업체이다. 얀트리는 상장 준비 중이며 내년 코스닥 상장을 목표로 추진하고 있다.

㈜얀트리 안진호 대표는 "머니투데이와의 투자 및 업무협력을 통해 해외소비자들에게 보다 향상된 쇼핑경험을 제공할 수 있게 됐다."며 "이번 협약을 계기로 코리안몰에 더 다양한 한국제품들을 입점 시켜 글로벌 시장에 알릴 수 있도록 최선을 다할 것이다."라고 전했다.